Le collectif Anonghost lance #OpFrance (MAJ le 20/01/2015)
L'équipe de pirates islamiques AnonGhost vient de lancé un opération de piratage de site internet français, ils déclarent qu'ils ne sont pas satisfaits de la réponse qui a été prise par la population française.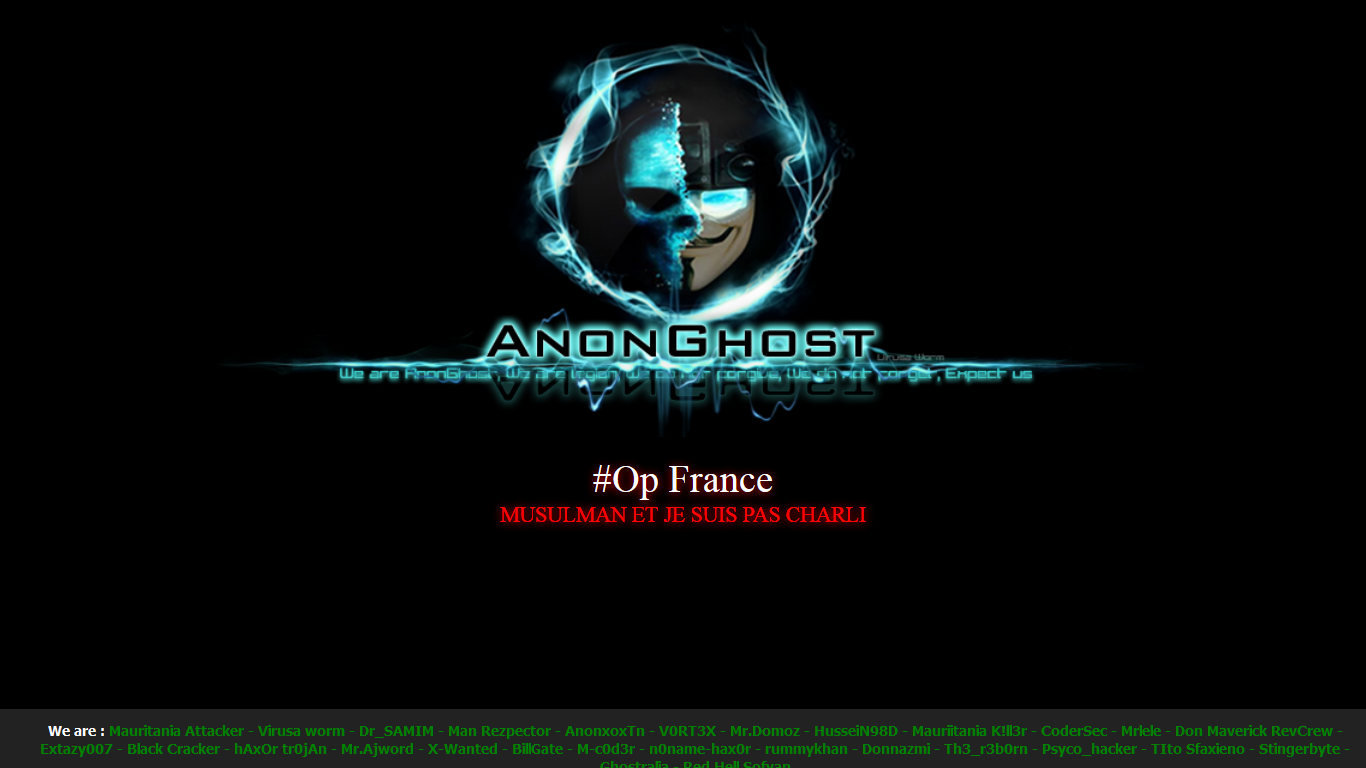 Les pirates AnonGhost attaquent des domaines français car AnonGhost croit fermement que la France a attaqué la religion islamique et son éthique pendant trop longtemps.
Dans une conversation Mauritania Attacker a fait les déclarations suivantes:
Le Français a brûlé le Coran
Le Français a insulté notre prophète
L'attaquant Mauritanien a également fait la déclaration choquante suivante:
Donc, nous avons tué les porcs "Hebdo"
Ci-dessous une vidéo publié sur Youtube avec comme titre évocateur "So we killed those Hebdo pigs"
(Liste ci-dessous non exhaustive)
L'opération AnonGhost #opFrance a déjà piraté en rendant inaccessible les domaines français suivants : liste effectué via les message posté sur twitter revendiquant ces attaques
(liste mise à jour le 15)
Exemple de défacement exécuté capture ci-dessous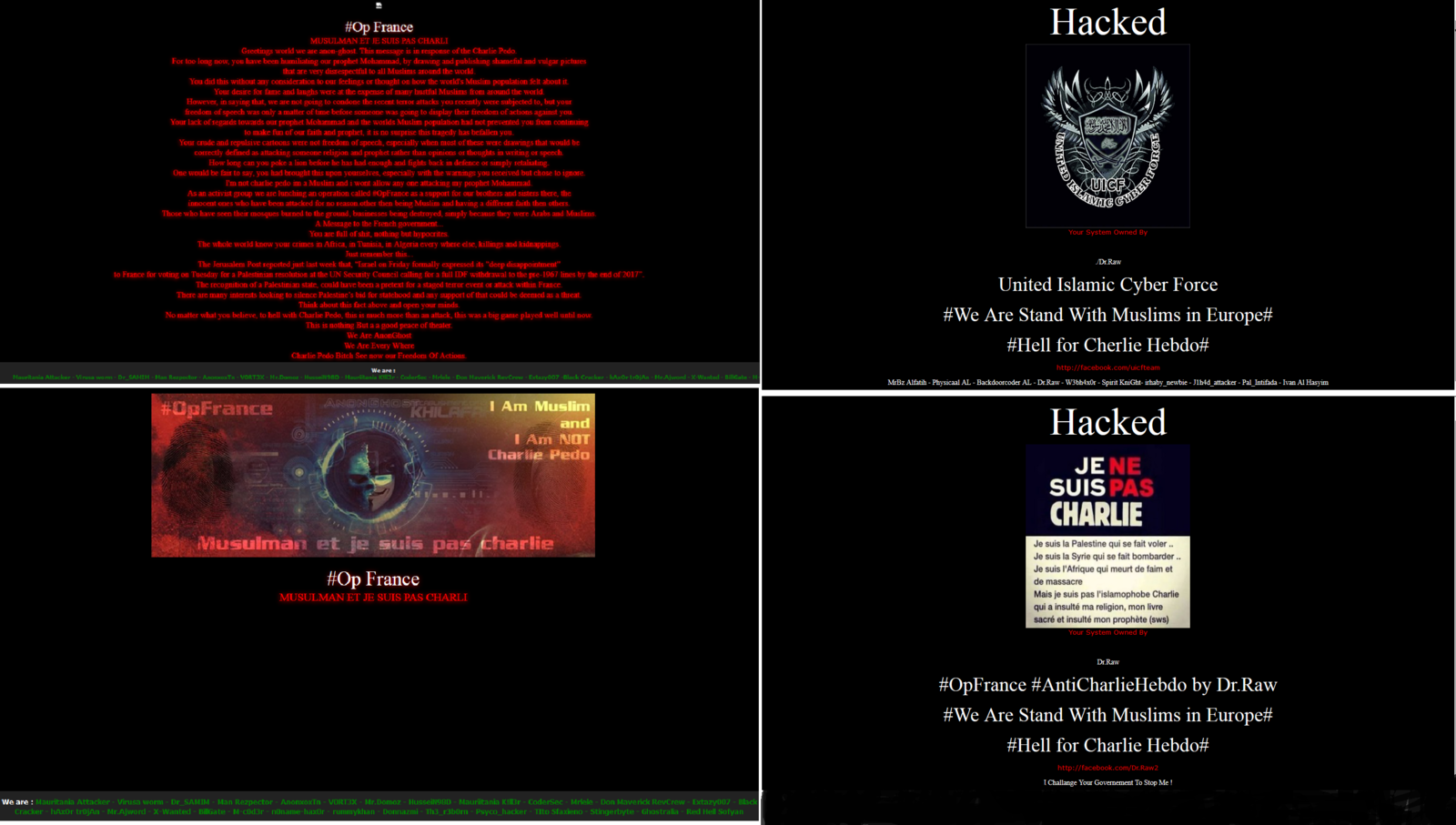 Vous pouvez suivre les attaques de l'opération OpFrance sur Twitter via le hashtag #OpFrance
You can follow the attacks in the #opFrance operation by joining the #opFrance Twitter channel.
If you liked this post, say thanks by sharing it:
Ci-dessous plusieurs messages postés sur pastebin ce revendiquant venir du collectif Anonghost.

En ce jour du 16/01/2015 de nombreux sites de presse sont inaccessibles
Vous pourrez trouver via ce lien les principaux sites web attaqués par la Team Anonghost
Le collectif AnonGhost n'en est pas à ses premières attaques, Dénoncé les exactions qui sont menés sur le peuple palestinien est leur credo principal. Ci-dessous vous trouverez une liste de site gouvernemental visée par la Team dans ce but.
Mise à jour du 20/01/2015
L'armée active pour la première fois une cellule de crise
L'état-major français des armées a activé pour la première fois de son histoire une cellule de crise cyber, depuis les attentats contre Charlie Hebdo et la menace d'attaques informatiques contre la France, dont les experts annonçaient le point d'orgue le 15 janvier.
Une dizaine d'officiers ont été rassemblés au sein du Centre de planification et de conduite des opérations, CPCO, le centre névralgique à partir duquel sont commandées toutes les missions en cours des armées. Ces militaires travaillent jour et nuit sans interruption depuis quelques jours. Ils font notamment la synthèse des informations liées à « l'adversaire » du moment, les groupes islamistes radicaux et djihadistes terroristes, surveillent la toile et veillent à la protection des systèmes de la défense.
Cela ne veut pas dire néanmoins que les attaques informatiques des jours derniers sont considérées comme graves par le ministère de la défense. Celles qui visent les opérateurs vitaux du pays sont même moins nombreuses qu'en temps normal, font savoir des sources militaires.
Le groupe Anonymous, qui avait attaqué le site de la Direction de l'information et de la communication de la défense (Dicod) le 6 janvier pour venger la mort du militant Rémi Fraisse sur le site du barrage de Sivens s'est concentrés sur les groupes djihadistes. Le site Zataz.com a recensé 19 000 actes hostiles sur des sites français les plus divers depuis les attentats à Paris. Un nombre que l'état-major a cité jeudi, mais qui n'est pas jugé précis. Le pic serait passé.
Actes bénins
Ces actes, tous azimuts, étaient relativement bénins, remplacement de home page de sites ou déni de service. Ils ont été déclenchés après que le groupe Anonymous a décidé d'attaquer les sites djihadistes. Les auteurs provenaient de groupes identifiés tels que Anon Ghost ou le Cyber Califat, parmi lesquels se sont mêlés des activistes directement liés à l'Etat islamique, mais aussi plus simplement d'une réaction de nombreuses personnes hostiles à la nouvelle publication de caricatures de Mahomet par la presse.
« On est dans une simple campagne d'information, une contre-manifestation pour l'heure », estime donc un spécialiste. Un événement pris néanmoins au sérieux, car l'instrument de propagande développé par Daech est puissant, et la défense estime que ces actions cyber ne vont pas s'arrêter là. Depuis mi-décembre, indiquent des sources militaires, l'Etat islamique fabrique des documents de propagande directement en français, vidéos notamment. L'une d'elle, mise en ligne le 27 décembre, mêlait des images de l'Abbé Pierre et du service de communication de l'armée de terre, ce qui voudrait dire que le groupe terroriste a recruté un ou plusieurs combattants français pour cette tâche.
Voici une liste de sites piratés par la Team AnonGhost posté sur pastebin , plus des messages postés sur Twitter annonçant le piratage de documents secrets officiel de l' aviation Civile
Pour être informé des derniers articles, inscrivez vous :