Manifestation mondiale contre Monsanto le 25 Mai
Manifestation mondiale contre Monsanto le 25 mai : Rendez-vous à Paris, Marseille, Montpellier,Lille,Brest,Nouméa,Strasbourg,Brest …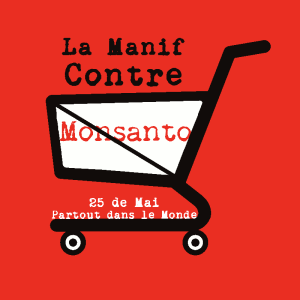 Le 25 mai 2013 sera une journée marquée d'une pierre blanche dans la mobilisation citoyenne mondiale. A l'initiative du mouvement Occupy américain, dans une démarche citoyenne autonome et indignée, le mot d'ordre a été lancé à travers les réseaux sociaux d'organiser la première manifestation internationale simultanée contre Monsanto.
Plusieurs centaines de manifestations sont organisées aux Etats-Unis, mais aussi en Europe et en Inde. La France et ses citoyens mobilisés de longue date contre les OGM auront aussi leur manifestation citoyenne avec l'organisation d'un rassemblement à Paris Place du Trocadéro le samedi 25 mai à partir de 14h mais aussi dans tous le reste de la France et dans les Dom-Tom.
Sans étiquette politique, ce rassemblement citoyen est spontané et ouvert à tous ceux qui se reconnaissent dans le rejet des multinationales de l'agroalimentaire pour réclamer une nourriture dépourvue de poison chimique et la reconnaissance due droit à un environnement sain pour tous !
liste de rassemblements prévus:
Cliquer ici pour accéder à la carte interactive.
Anonymous support #24May March Against Monsanto
Voici le texte et la vidéo publié par Anonymous en soutient aux manifestations
Anonymous ►March against Monsanto from @AnonymousVideo on Vimeo.
On the occasion of the international protest against Monsanto Inc. on the twenty fourth of May, otherwise known as the March against Monsanto, we join the efforts of all the groups involved saying STOP.
STOP GMO production aimed at conquering ever larger market shares.
STOP the logic of a market which produces products such as RR2, that are resilient to gylcophosphates* produced by Monsanto Inc. itself, which are very dangerous for humans.
How can transgenic crops, grown by destroying small farmers and the biodiversity that they are protecting, where carcinogenic pesticides, even harmful for the fetus, are employed, be labelled as eco-sustainable?
Organic farmers in America who see their crops accidentally contaminated by Monsanto's genetically modified seeds are then accused by the legal industry just mentioned , theft seeds, in order to intimidate them and then get them to adopt Monsanto seed or sell their lands.
Everything is filthy, grotesque and disgusting.
Damn your filthy profit, in the name of which poisoned the environment and humans.
Monsanto : Anonymous refuses your vile dominion over Nature.
Monsanto: nothing can hide the social and ecological havoc that the diffusion of your seeds and pesticides is generating globally.
Monsanto: Anonymous thinks that you should be held responsible, in front of Mankind , for genocide, environmental disaster and mass contamination!

We are Anonymous
We are legion
We do not forgive
We do not forget
Expect us
Partager cet article
Pour être informé des derniers articles, inscrivez vous :